It's probably too late to shop for gifts, but if you get cash for Christmas, head over to Livity Outernational and check out their cool clothes. My childhood friend, Isaac, runs the business and sent me some samples. The hoodie he sent me is now my favorite casual jacket.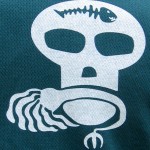 It's super heavyweight and really fought off the cold. It's been especially cold here in Northern California in the past couple weeks, but I've been comfortable. I also like the the whimsical and useful features of this hoodie. There are holes in the sleeves for your thumbs which while kind of fun are also practical for keeping the sleeves from riding up while your doing something active like snowboarding. There's also a cool design of a "Kelp Overload" on the inside, or on the outside if you choose to turn this reversible jacket inside-out.
Maybe you'll find something else at the store that you fancy, so check it out.