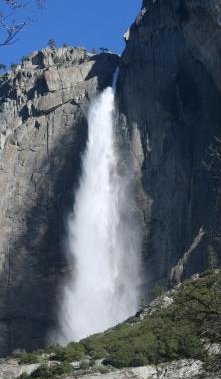 My family and I just returned from a short vacation to Yosemite in celebration of Vicky and I being married for 10 years. John Muir, a saint of Martinez, wrote that one should climb the mountains and get their glad tidings. That line bounced around my head as we were walking around the valley. When we'd planned the trip months ago, we expected snow in the valley to play in, but it was warm–at least 70F every day–just perfect. This being so early in the season, the waterfalls were full and roaring. Some waterfalls that don't flow every year were flowing. It was great!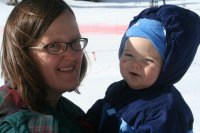 We did get to play in the snow by taking the bus up to Badger Pass. They rent innertubes to ride down a little hill. Tre and I took several rides with one big spill. I forgot how rough ice can be, and Tre scraped up his arm pretty good. I was so proud of him not ending the fun there, continuing on with more rides down the hill.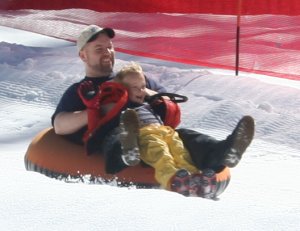 We stayed at Yosemite Lodge, which offers small motel rooms, a cafeteria and a little store. The TV had one channel that played a promotional film for Delaware Northern Company, the company that has the contract to provide services in the valley. I noticed that all the people we interacted with were exceptionally nice. Maybe they are happy to be working in Yosemite, or maybe it's part of DNC's ISO 9000 certification.
Another channel on the TV constantly played a single episode of Huell Howser's California Gold, the one about the Yosemite firefall. Howser has had this PBS show about California for at least 10 years because when Vicky and I were first getting to know each other, we found the episode about the Golden Gate Bridge particularly funny. He has this way of stating the obvious with genuine amazement: "so, now we are over the bridge" as he flies over in a helicopter. Anyway, this show the the property of being a vlog before anyone thought of the term.
It really was a wonderful trip. For a place that can be insanely crowded, it was virtually empty, but the weather was perfect. I always like to spend time with my best friend, and I like spending time getting to know my two little sons.